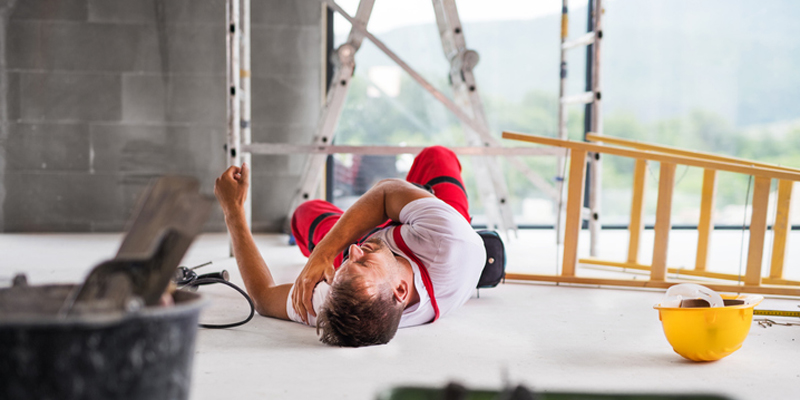 We are premises liability attorneys who fight for your right to compensation. Premises liability holds property owners accountable for injuries that occur on their property. A landowner has a duty to keep their property reasonably safe for anyone who enters its premises. If a landowner neglects that duty and someone becomes injured, the landowner may have to compensate the injured party. For more than 25 years, our attorneys have represented clients in premises liability cases, helping them get back on their feet physically and financially. Premises liability injuries can have many causes, but some of the most common are: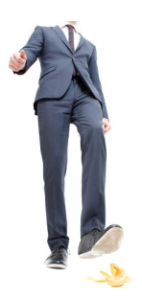 Slippery floors
Broken chairs
Poor lighting
Defective handrails
Cracked steps
Potholes
Uneven pavement
If you sustained an injury on another person's property, call our law offices immediately to seek help with compensation.
Slip and fall facts:
The most common type of premises liability injury results from a slip and fall accident. The law protects victims of slip and fall accidents whether they are invitees or licensees. An invitee is someone who is invited onto land open to the general public, whether for business purposes, such as a shopper in a grocery store or in another public area like a park or community center. A licensee is someone allowed to visit property that is not open to the general public, such as a houseguest visiting a friend's private home. The law is so serious about holding landowners accountable for injuries suffered on their premises that in certain cases it may even compensate trespassers or those who are considered partly at fault for their own injuries.
Do I deserve compensation?
Courts generally ask the following questions in determining whether a victim deserves compensation from a landowner for an injury sustained on the landowner's property:
Was there an unreasonable risk of harm on the land?
Did the landowner know or should they reasonably have known about the harm?
Did the landowner know or should they reasonably have known that the visitor would not appreciate the danger?
Did the landowner fail to take ordinary measures of care to protect the visitor?
An injured party must file a claim within a certain time period following an accident or injury, so if you answered yes to any of the above questions, call our law office as soon as you can.
Call Our Law Office today.
For a free consultation, call us today. Our firm is committed to helping injured parties. We offer a contingency fee payment plan, which means you only pay legal fees if you win. Our attorneys offer home and hospital visits as well as flexible office hours to meet everyone's needs. Our office has plenty of parking and easy access to public transportation.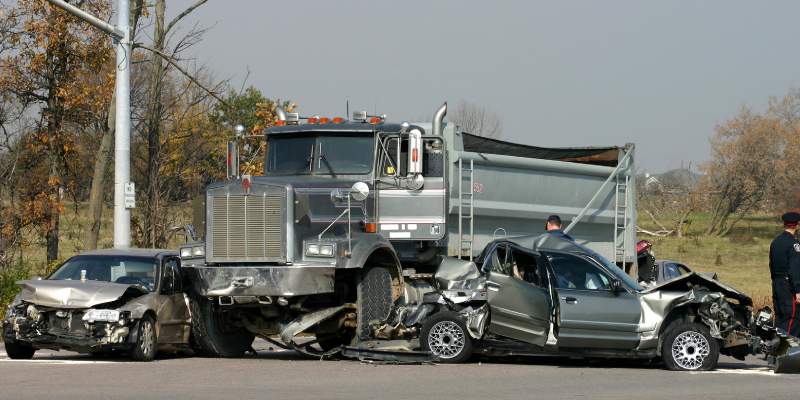 The type of trucking accident in which you were involved can affect the seriousness of your injuries as well as the scope of the entire case. Some types of trucking accidents have very far-reaching consequences and can harm people who were not even on the road. If you or a loved one has been the victim of a trucking accident, the trucking accident attorneys of our firm can help you get the compensation you need and deserve.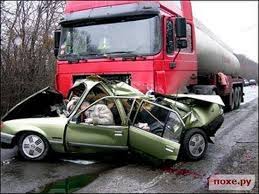 Hazardous Materials
Hazardous materials accidents can have far reaching consequences:
Thousands of people can be hurt by toxic fumes
Property can be permanently destroyed by contamination
Explosions can injure or kill people in nearby buildings
Evacuations of large areas are sometimes necessary
Fires and explosions can cause overpasses and bridges to collapse
In order to haul hazardous materials, truck drivers must have extensive training and special licensing beyond the regular commercial driver's license (CDL). There are very strict laws regarding where hazardous materials trucks may travel and even where they may park.
Tanker Truck Accidents
Tanker trucks sometimes carry hazardous materials, but many carry relatively harmless liquids such as milk or water. Even those carrying safe cargo can cause serious accidents. Tanker trucks have unique risks:
If the tank is not full, the liquid inside can start to slosh back and forth, gaining momentum until it causes the truck to rollover or swing out of control.
Different types of liquids have different densities and therefore, different weights at the same volume. That makes it easy to misjudge the weight of the load.
Wet lines designed to break away in case of an accident can cause fires and severe burn injuries when the truck is carrying a flammable liquid.
Underpass Accidents
Underpass accidents can affect vehicles under or on top of the underpass depending on the nature of the accident and whether it damages the structure itself. Some examples of underpass accidents include:
Improperly secured load falls off a truck on the overpass and lands on vehicles passing under the underpass
Top of truck or load strikes the structure damaging the road and causing vehicle on top to crash
Truck is too tall and gets stuck in the underpass causing other vehicles to rear end the truck
Truck explodes or catches fire, causing the structure to collapse and resulting in accidents on top of and underneath the underpass
Top of the truck or load is sheared off onto other cars or the road
Underpass accidents can occur when the truck driver fails to observe a low-clearance sign or if the sign is missing, obscured, or inaccurate. When the problem is with the sign itself, the entity responsible for the road may possibly be held responsible for the accident.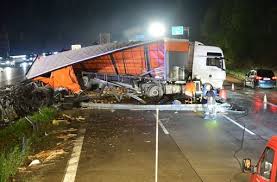 If you have been injured or a loved one has been injured or killed in a trucking accident, please contact our trucking accident lawyers today. We handle trucking accident cases on a contingency fee basis. Our firm charges a reasonable percentage of the recovery if we win the case or obtain a settlement. If there is no recovery, you will not owe us an attorney's fee. If we represent you in a trucking accident case, we will also advance all court costs and other expenses necessary to pursue the case. If we obtain a recovery, we will be reimbursed for the advanced expenses from the recovery, but if there is no recovery, you will not owe us anything for the expenses or for attorney's fees.
Let us review your case confidentially without charge or obligation.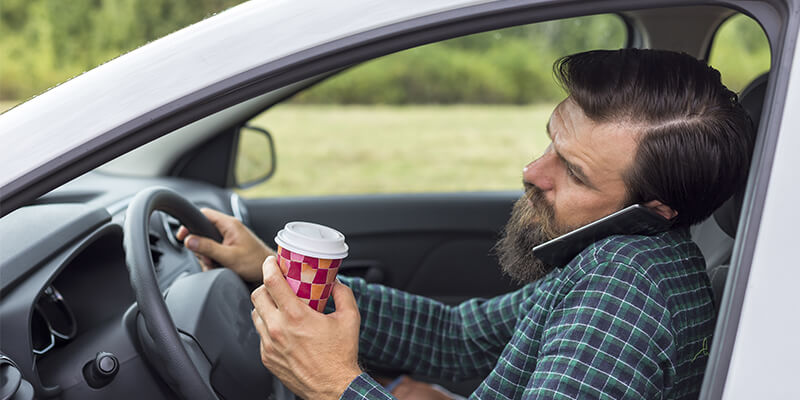 There are certain driving rules set in stone like driving on the right side of the road and stopping at a light when it turns red. These are a necessity in order to maintain order and traffic fluidity. However, traffic laws can only do so much; in the end, the responsibility falls on the driver's shoulders to follow these laws and pay attention to all that's happening on the road.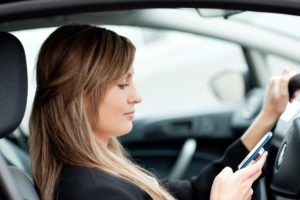 Almost all driving calamities are caused by our inability to concentrate. Anything that garners your attention and takes your mind off the road greatly improves your chances of being involved in an accident. Without 100 percent of your effort focused on driving, your reaction to a dangerous obstacle will be delayed much longer than it should.
A Rampant Problem
Paying attention at all times is the golden rule of driving. According to a study by the National Highway Traffic Safety Administration in spring of 2006, some type of driver distraction occurred in every four out of five crashes and 65 percent of close calls within three seconds of the incident. In other words, it only took mere seconds of limited attention to cause a disaster.
This day and age, multitasking in the driver's seat is becoming the norm. Automobile manufacturers seem to be filling their vehicles with all sorts of amenities as subtle as cup holders or as obvious as DVD players and LCD screens installed in the dashboard. It is practically acceptable to see drivers:
• Eating or drinking.
• Surfing through radio stations.
• Switching CDs
• Talking on a cell phone.
• Engaging in conversation with passengers.
• Tending to children who demand attention
• Reading.
All of the above activities compromise the driver's capacity to scrutinize and respond to the rapidly changing environment of the road.
Changing your viewpoint
Safe driving is dependent upon driver attitudes; drivers who consider their vehicles extensions of their homes may have a tendency to overlook safety in favor of convenience and entertainment value. On the other hand, those who distinguish their vehicles as extremely large and powerful weapons waiting to be misused are more apt to view driving in the literal sense—an intricate task that requires total attentiveness if it is to be done correctly.
Curbing driver distractions
• Ensure that young passengers are comfortable and appropriately fastened in child seats. To prevent children from bothering the driver, give them safe materials to keep them busy (e.g., coloring books, stuffed animals, etc.). Make sure pets are secured inside their carriers as well.
• Stop the car if you or anyone else in the vehicle intends to eat or drink. It is possible for anybody to choke if they are chewing while the car is moving, creating a major disruption for the driver. By pulling over, you give you and your passengers the opportunity to take a break from the stress associated with traffic and enjoy your pick-me-up without having to rush.
• Plan out your journey before you get going. If you're unsure of the area, pull off to the side of the road to plot the route and avoid the hassle of looking at a map while trying to watch the road.
• Finish primping yourself before leaving the house. Never attempt to shave, put on makeup, or brush your hair while operating a motor vehicle.
• Do not participate in arguments or upsetting conversations with passengers or over the phone. These situations can lead to aggressive or unpredictable driving patterns.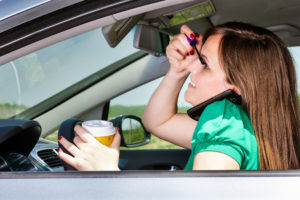 • Proceed with caution, and prepare yourself for bad weather or careless drivers, pedestrians, or cyclists that you may share the road with.
• Get to know your vehicle inside and out, especially internal switches and dials that control various mechanisms. This is absolutely necessary if you are driving an unfamiliar vehicle such as a new or rental car. Prior to shifting to drive, practice using these instruments so that you can perform vital tasks such as running the headlights, wipers, and defrosters without having to look.
• The only thing your hands should be touching is the steering wheel, and the only thing your eyes should be looking at is the road while the vehicle is in motion. Unless you have a hands-free kit or Bluetooth headset, you should not be talking on a cell phone while driving. Make your calls before departing from your home or office, or else postpone them until you reach your destination. In the meantime, anyone trying to reach you can leave messages on your voicemail. If it happens to be an emergency, pull off to the shoulder or into a parking lot to use the phone. More on this website